INTERNATIONAL FREE ZONE AUTHORITY (IFZA)
Join The Award-Winning Community
IFZA, formerly established in 2018 in Fujairah, has shifted its headquarters to the heart of Dubai, at its new premises in Dubai Digital Park, a regulated hub by Dubai Silicon Oasis (DSO).  IFZA, known as the lowest cost-free zone for business setup, offers a highly customised approach, coupled with efficient international service standards and cost-effective solutions.
Core Sectors: IFZA focuses on services, professional, industrial, and commercial licenses. There are over 2000 business activities ranging from professional services, information technology, and design, logistics, trading, food and beverage, education, lifestyle, and marketing.
Cost-effective company formation solutions.
Fast business setup process.
Wide range of professional, services and commercial business activity options.
Ability to incorporate holding companies and commercial investment companies.
100% foreign ownership.
Shareholders are not required to be physically present in the UAE during the incorporation process.
Company structures are available for a Limited Liability Company or branch setup.
0%  income tax.
0% Corporate Tax provided they comply with all regulatory requirements.
Zero foreign currency restrictions.
Full repatriation of company profits and capital.
Low set-up costs.
No physical office requirements.
No paid-up share capital requirements.
Cross-business activities in the same license.
Several license options are available, to effectively serve small, mid-size and large international businesses.
Consultancy LicenseProfessional License for business professionals providing a wide range of expert and professional consultancy services across all industries.
Service License Service license includes rendering services as the primary objective and utilizing associated goods to provide those services.
Trading LicenseCommercial License or a trading license; authorizes engaging in import, export, distribution, wholesale, retail, and storage of goods for trading purposes.
General Trading License General Trading License includes commercial licensed entities engaged in the import, trading, and re-export of goods; including trading activities that are subject to external approvals.
Holding LicenseHolding License includes investment in enterprises and management activities formed to allow the holding standalone assets and/or shares in other companies.
Offices – a wide range of modern office solutions catered to the requirements and benefit of business investors.
Shared workstations.
Private and personalised offices.
European design.
Modern, open interiors with ample natural light.
Flexible usage options.
Flexible rental duration.
24/7 access.
Available parking spaces.
Meeting rooms and social spaces.
SPEAK TO OUR EXPERTS TODAY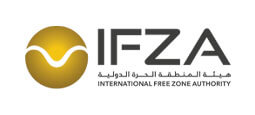 IFZA
Located in Dubai Digital Park and regulated by Dubai Silicon Oasis (DSO), Dubai.
Business owners are not required to be physically present during the incorporation process and all documentation can be signed and accepted digitally.
Zero share capital is required.
Averaging 2-3 working days.
0% Corporate Tax provided they comply with all regulatory requirements.
Not required however, recommended as an efficient practice to maintain a proper book of accounts.
WHY CHOOSE IFZA
Unparalleled Access To World-Class Business Services
Wide Range of Activities
IFZA offers around 2,000 business activities including professional, services, industrial and commercial activity licenses.
LLC Licenses
New business setups (except branches of foreign registered company) are registered as FZCO structure. Companies incorporated in IFZA are eligible for visa issuance and corporate bank account opening.
Fast License Setup
IFZA business registration is streamlined and highly efficient, being a competitive free zone in terms of license issuance timeframe.
Dedicated Team
A specialized free zone team working hand in hand with Creation Business Consultants experts to complete company formation and license issuance in an efficient and timely manner.