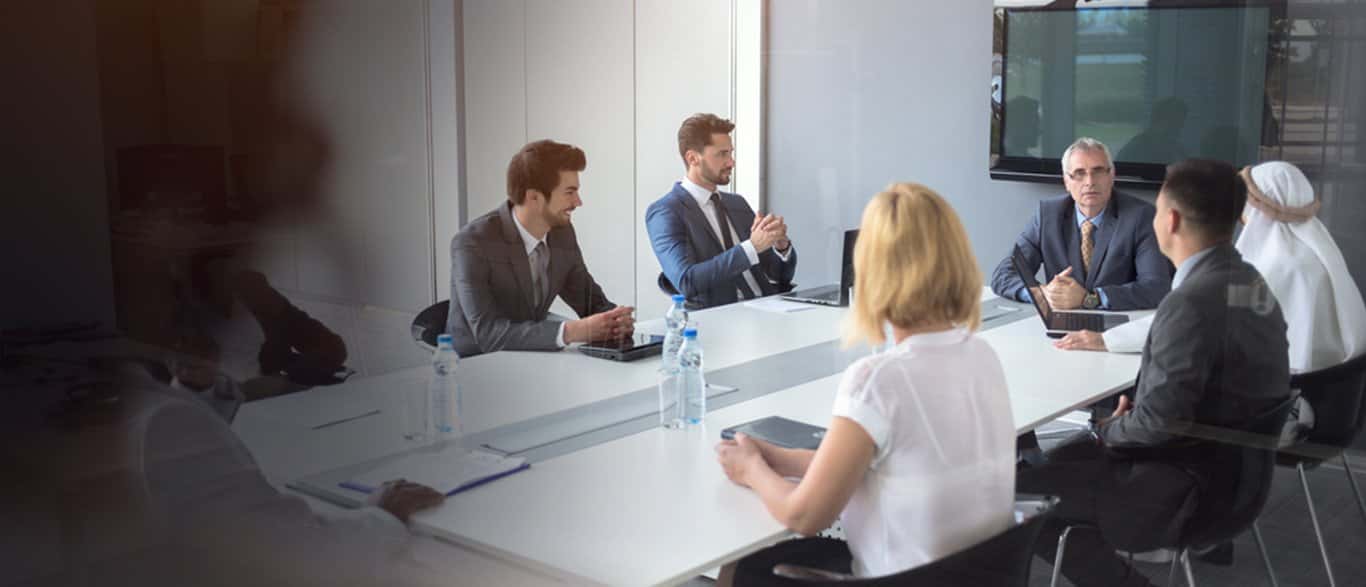 PROFESSIONAL CORPORATE SPONSOR & NOMINEE
SERVICES
One of the most frequently asked question by new market entrants is whether they require a local partner (sponsor). This depends on various factors such as: nationality, business activity and type of business setup.
UAE Commercial Companies Law states that a Limited Liability Company (LLC) must have at least one local partner, where they hold a minimum 51% shareholding of the LLC. This applies to the following industries:
Oil production and exploration
Military and security services
Financial, insurance, and banking activities
Services for pilgrimage and umrah
Provision of electricity and water
Services related to fishing
Telecom and postal services
Air and road transportation
Publishing and printing
Commercial firm
Retail medicine (including pharmacies)
Quarantines, venom/poison banks, and blood banks
Our professional corporate nominee service is the answer to your local ownership requirements.
Creation's corporate nominee structures will give you complete peace of mind and is designed to safeguard your interests as you will be fully compliant with commercial laws and regulations.
SPONSORSHIP & BUSINESS IN THE UAE
Are you an entrepreneur or investor planning to form a company in mainland UAE? The UAE provides investors and entrepreneurs the perfect hub to access the GCC and larger global markets. By now, you have probably come to realise in order to form a company in the mainland for some activities (as mentioned above), you will need a local sponsor. UAE Commercial Companies Law, specifies that a Limited Liability Company (LLC) must have a local UAE partner who holds a minimum of 51% of the company shares. You are probably thinking "Wow, how and where am I going to find a safe and trusted sponsor with no risk or involvement in my business?" However, the idea of finding a trusting sponsor for your company seems impossible. Not to worry, Creation Business Consultants are here to guide you on the requirements and benefits of selecting a safe and trusted "corporate sponsor".
CORPORATE SPONSORSHIP
Corporate sponsorship allows you to form a company in Dubai and the UAE while making sure you maintain control of your company. At Creation, we do not use individuals as sponsors. Instead, our professional corporate nominee service provides your business with a safe and reliable option for your local sponsorship requirements. So how does it work? Creation controls and manages several 100% Emirati owned companies that facilitate a corporate nominee partnership. We use these Creation companies to hold 51% of your company shares in a trust for you, so you can rest assured knowing you will receive 100% of the business profits.
BENEFITS OF CREATION'S CORPORATE SPONSORSHIP / CORPORATE NOMINEE
Zero interference with your business – Our corporate sponsorship grants you 100% freedom to conduct your business, with no interference from your corporate sponsor. You will have full rights to conduct your daily operations and maintain control of the company's voting rights. Best of all, you will have 100% of the financial benefits.
Greater protection – Unlike individual sponsorship, your business is more protected and secure with using a corporate sponsor. At Creation, we will provide your company with detailed suite of security agreements to protect the 49% shareholders interests from any undue risks.
Protection against sponsorship withdrawal – With Creation, you will never deal with an individual sponsor. Since your corporate sponsorship is handled by a team, there is never a risk of ownership problems due to an individual's death or early retirement.
Fast documentation processing – Local sponsorship requires a great deal of documentation, ranging from visas to bank references, and working with a corporate sponsor can streamline the completion period, making it short and painless.
 

| Creation Business Consultants | Your Company (LLC) |
| --- | --- |
| 51% Shareholder | 49% Shareholder |
| Zero Company Involvement | Full Company Control |
| No Financial Rights | 100% Financial Benefits |
| No Voting Rights | Full Control of Company Voting Rights |
| | Side agreement to give greater protection to the foreign shareholder |
CREATION BUSINESS CONSULTANTS
At Creation, we have helped business owners from all over the world to successfully set up their companies in Dubai and the UAE (including the UK, USA, Europe, Asia, and Australia). We take the time to fully assess your company's needs to ensure we meet your specific organisational requirements. Regardless of the size of your company, we will provide expert advice and solutions designed to make sure you maintain control of your company. Whether you are a startup, SME, entrepreneur or a multinational company, our team of experts has the skills and experience to successfully set up your company in Dubai and the UAE. Contact a member of our team today to schedule your free consultation or read our comprehensive Dubai & UAE Local Sponsorship Guide.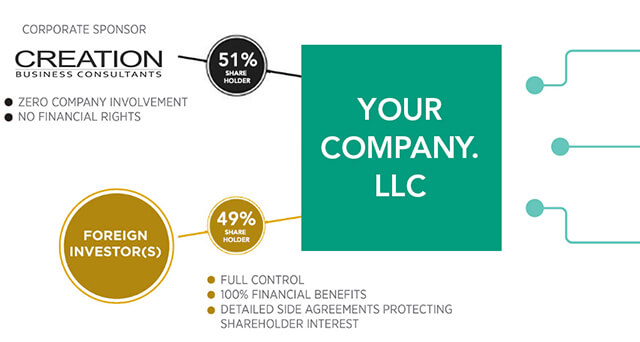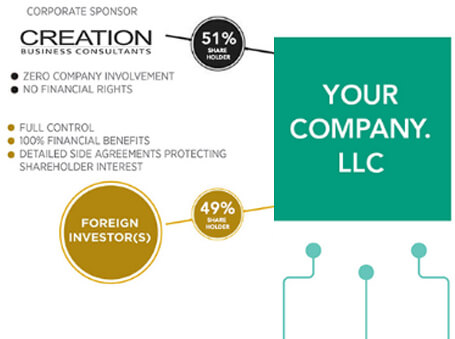 CORPORATE
NOMINEE
SPONSORSHIP
Creation controls and manages 100% Emirati owned companies that facilitate a corporate nominee partnership.
We serve foreign companies, business owners and investors via a reliable and secure professional corporate nominee structure.
Through our trusted corporate nominee structure our business model qualifies foreign owners to have full control and ownership of their business.
We have watertight agreements in place that protects the foreign company from any undue risks.
BUSINESS SET UP MODEL
We remove the bureaucracy and complexity with company setup, enabling businesses to be operational as soon as possible