DWC FREE ZONE BUSINESS CONSULTANTS
Join The Award-Winning Community
Dubai World Central is also known as Dubai South free zone. It is an ambitious project by the Government of Dubai to make this free zone the largest business and aviation hub in the region. DWC is a self-sustaining urban destination that empowers businesses to grow and prosper. Located next to Al Maktoum International Airport and strategically next to Expo 2020 grounds, this Dubai free zone is becoming more popular. Leveraging its strategic location connecting both air and sea mega ports, Dubai South is a quick 5-10-minute drive from Jebel Ali seaport, which is one of the busiest ports of the world. DWC is a gateway to the dynamic markets of the Middle East, Africa and South Asia. With such great advantages, it is safe to say that Dubai South is one of the most sought-after free zones by investors to incorporate a business.
Core Sectors: DWC focuses on logistics and aviation. Currently, there are over 800 business activities, ranging from transportation to retail, hospitality, food and beverage all the way to education and information technology.
Recommended for: Investors and companies involved with trading business activities and professional consulting services. DWC is home to many well-known international trading companies.
100% foreign ownership
100% foreign ownership
100% repatriation of capital as well as profits
0% tax as well as no duty tax for import and export
Quick, easy and cost effective set up process
Flexible commercial lease terms
Smart desk to smart offices solutions
Wide range of business activities
Minimum documentation required to set up a business
Direct access to Jebel Ali Sea Port, Al Maktoum Airport and Expo 2020
No proof of share capital required
State of the art office and site facilities.
Professional / Services License – A services license enables investors / companies to be able to conduct services listed by the authorities. Certain professional business activities may require additional documentation. For example, an architect may need to provide proof of their qualification certificates or an architect company may need to provide proof of experience such as sharing a portfolio of prior completed projects.
Trading and General Trading License – This license type facilitates import, export, distribution, storage, sale of specific products within the UAE marketplace. A general trading license provides more flexibility for companies trading in many products, except those that are prohibited under the law.
Industrial License – An industrial license is issued to a company to perform manufacturing activities. A warehouse facility will need to be leased within the free zone jurisdiction to complete the company registration.
Logistics License – A logistics license should be acquired to perform transportation activities. Depending on the business activities selected, this will determine the business facility rental options available to register a new company.
Education
Modern infrastructure with commercial and residential towers
Modern infrastructure with commercial and residential towers
Shell and core offices
Fitted-out and custom build offices
Serviced offices and flexi desks
Industrial / warehouse facilities
Direct connection to port JAFZA and DWC airport
SPEAK TO OUR EXPERTS TODAY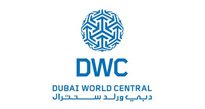 Dubai World Central
Located next to Dubai World Central Airport and strategically next to Expo 2020
100% Business Ownership &
Capital Repatriation
No proof of share capital required
4-6 weeks
Tax and duty exemption
Required in year two
WHY CHOOSE DWC
Unparalleled Access To World-Class Business Services