Published on September 20th, 2020.
JEBEL ALI FREE ZONE
COMPANY SETUP
Join The Award-Winning Community
Jebel Ali Free Zone commenced its operations in 1985 and today stands out as a leading business hub of the Middle East. JAFZA is the world's only free zone located between one of the world's largest airports and a seaport. Jebel Ali Port, is the world's 6th largest container port on one side of the free zone and Al Maktoum International Airport, is one of the world's largest cargo airports on the other side of the free zone. JAFZA has ready-made office units, warehouses, light industrial units and land available for lease. This Dubai free zone has flexi desks, business centers and hotels. JAFZA is home to over 7,000 companies, with over 120 of the Fortune Global 500 enterprises being present. The free zone remains attractive to both individual and corporate shareholders for trading, industrial, logistics and service companies.
Core Sectors: Generalist free zone focusing on trading, manufacturing and logistics. JAFZA is the region's first established and second largest free zone.
SPEAK TO OUR EXPERTS TODAY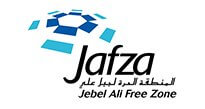 JEBEL ALI FREE ZONE (JAFZA)
JEBEL ALI FREE ZONE
100% foreign ownership
No paid-up capital requirement
4 weeks
Tax and duty exemption

Required Annually
WHY CHOOSE JAFZA
Unparalleled Access To World-Class Business Services
JEBEL ALI FREEZONE (JAFZA) FAQS