DUBAI COMMERCITY FREE ZONE BUSINESS CONSULTANTS
Join The Award-Winning Community
Dubai CommerCity (DCC) is a 100% government-owned Dubai free zone. It is a specialised e-commerce free zone that was launched in 2020, with the aim of providing a strategic platform for global e-commerce companies to establish their businesses in the Middle East and Africa region.
DCC offers a range of business solutions and services to its clients, including company formation and registration, licensing, visa processing, and other support services. The free zone is divided into three clusters: Business, Logistics, and Social. Each cluster is designed to cater to the specific needs of e-commerce businesses operating in DCC.
The Business cluster is the main area for commercial and business activities, while the Logistics cluster focuses on e-commerce logistics and supply chain management. The Social cluster is dedicated to creating a community of e-commerce entrepreneurs and professionals, providing shared office spaces, networking opportunities, and other community-building activities.
Core sectors: Dubai CommerCity provides a wide range of business activities and licenses for companies operating in various industries such as e-commerce, logistics and information technology to fashion, jewellery, and electronics.
SPEAK TO OUR EXPERTS TODAY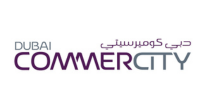 Dubai CommerCity (DCC) Free Zone
Next to Dubai International Airport
100% Business Ownership &
Capital Repatriation
Starting from AED 1,000
4 weeks
Tax and duty exemption
Required annually
WHY CHOOSE DMCC
Unparalleled Access To World-Class Business Services
DUBAI COMMERCITY (DCC) FAQS