DUBAI KNOWLEDGE PARK FREE ZONE BUSINESS CONSULTANTS
Join The Award-Winning Community
Dubai Knowledge Park (DKP) Free Zone is a 100% government-owned Dubai free zone, that offers a range of facilities, including office space, training centers, and educational institutions for individuals and companies in various sectors such as human resources, finance, and IT.
Dubai Knowledge Park is home to more than 500 companies, including some of the world's leading names in education, training, and consultancy. It also has a range of services for students and professionals, such as career development programs, networking events, and workshops.
The park is part of TECOM Group, a subsidiary of Dubai Holding, which is responsible for the development and management of several business parks and free zones in Dubai.
Core sectors: Dubai Knowledge Park (DKP) provides a wide range of business activities and licenses for companies operating in various industries such as consultancy, executive search, research and development, management development, technical and occupational skills, educational services, institutes, and universities, Hr, training institutes, assessment and testing, and freelancing. The world's only free zone dedicated to Human Resource Management and learning excellence.
SPEAK TO OUR EXPERTS TODAY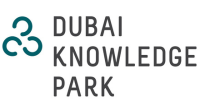 Dubai Knowledge Park (DKP)
Al Sufouh, Jumeirah, Dubai
100% foreign ownership
Starting from AED 50,000
4 weeks
Tax and duty exemption
Required annually
WHY CHOOSE DMCC
Unparalleled Access To World-Class Business Services
DUBAI KNOWLEDGE PARK (DKP) FAQS