Published on September 21st, 2020.
UMM AL QUWAIN FREE TRADE ZONE (UAQ FTZ)
Join The Award-Winning Community
Umm Al Quwain Free Trade Zone (UAQ FTZ) is located 45 minutes from Dubai International Airport. UAQ FTZ is an investor-friendly, progressive free-zone established mainly to favor SMEs and micro-businesses, which will benefit from advantageous set-up costs, 100% company ownership and zero currency restrictions. UAQ FTZ offers flexibility and ease of doing business, investor-friendly climate, excellent growth opportunities and cost-effective leasing options for office space and warehousing.
Core Sectors: Focus on trading and services.
0% corporate and personal tax.
100% company ownership.
Full range of business activities permitted.
100% repatriation of capital and profits.
No currency restrictions.
100% import and export tax exemption within the Free Zone.
Simple and fast registration process with excellent customer support.
Hi-tech facilities including office, warehouse and land availability.
Ideal location for SMEs and micro-businesses.
Close to two international airports and major sea ports.
Special concessions at UAQ's sea port.
No restrictions on hiring foreign employees.
Modern and investor-friendly rules and regulations.
Commercial
General Trading
Freelance permit
Consultancy
Service
Industrial
Offices
Virtual desks and shared desks
Warehouse units
Plots of land available for lease
SPEAK TO OUR EXPERTS TODAY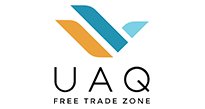 Umm Al Quwain Free Trade Zone (UAQ FTZ)
Umm Al Quwain Free Trade Zone
0% corporate and personal tax
100% company ownership
Not required
1 week
Tax and duty exemption
Not required however, recommended as best practice to maintain proper books of accounts
WHY CHOOSE UAQ FTZ
Unparalleled Access To World-Class Business Services
UMM AL QUWAIN FREE TRADE ZONE (UAQ FTZ) FAQS