HAMRIYAH FREE ZONE AUTHORITY (HFZA)
Join The Award-Winning Community
Hamriyah Free Zone Authority was established by an Emiri decree issued in November 12, 1995. It is located in Sharjah, United Arab Emirates, which gives the free zone a unique geographic and time zone advantage backed by a secure and fully convertible currency and a multi-access to neighboring and global countries through land, sea and air. Hamriyah Free Zone is fast becoming one of the cornerstones of the United Arab Emirates industrial development. As the Next Generation Free Zone, Hamriyah Free Zone is ensuring that its management is flexible and dynamic besides being an investor oriented free zone.
Core Sectors: Generalist free zone with focus on trading manufacturing and logistics industry
100% foreign ownership
0% Corporate Tax provided they comply with all regulatory requirements
Straight forward business set-up process
Wide range of licenses across different sectors including aviation
Three seaports and international airport
Competitive pricing with low operating costs
Exemption from personal and income taxes
Exemption from import/ export duties and low freight charges
25 year leases available, renewable for a further 25 years
Strategic location to access global markets
Developed infrastructure
Commercial
Professional
Industrial
Manufacturing
Warehousing
Warehouses
Virtual office, flexi desks and offices
Purpose built office accommodation, warehousing and factory units
SPEAK TO OUR EXPERTS TODAY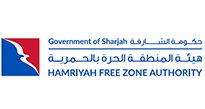 Hamriyah Free Zone Authority (HFZA)
Hamriyah Free Zone, Sharjah
100% foreign ownership
From AED 150,000; however, AED 50,000 recommended to be paid up within the first year of operation.
1 week
0% Corporate Tax provided they comply with all regulatory requirements.
Required; however, can be waived for a fixed fee of AED 1,000.
WHY CHOOSE HFZA
Unparalleled Access To World-Class Business Services
HAMRIYAH FREE ZONE AUTHORITY (HFZA) FAQS