SHARJAH AIRPORT INTERNATIONAL FREE ZONE (SAIF)
Join The Award-Winning Community
Sharjah Airport International Free Zone provides some of the most enticing business incentives in the region, including speed of service and simplicity of process. SAIF-ZONE has a 24 hour licensing service which enables businesses to be up and running sooner than has ever been possible before. The customer base is among the largest in the world from one central hub, with access to more than 2 billion people within a four hour flight and as one of the most dynamic Emirates in the UAE, Sharjah accounts for over a third of the country's industrial activity.
Core Sectors: Focus on aviation, trading, manufacturing and logistics
100% foreign ownership.
Exemption from personal income taxes.
0% Corporate Tax provided they comply with all regulatory requirements.
Tax exemption for all import and export.
100% repatriation of capital and profits.
100% free transfer of funds.
Straight forward business set-up process.
Licenses can be issued on the same day (24 hour licensing service).
Wide range of licenses across different sectors including aviation.
Adjacent and connected to the airport.
State of the art logistics facilities.
Direct connection to the port.
Commercial
Service
General Trading
Industrial
Offices
Industrial Park
Land On Lease
Prebuilt Warehouse
Temporary Warehouse
SAIF Zone Labor Accommodation​
SPEAK TO OUR EXPERTS TODAY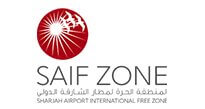 Sharjah Airport International Free Zone (SAIF)
Sharjah Airport International Free Zone
100% foreign ownership
From AED 150,000 recommended to be paid up within the first year of operation
Not required at inception.
2-3 weeks
0% Corporate Tax provided they comply with all regulatory requirements
Required annually
WHY CHOOSE SAIF
Unparalleled Access To World-Class Business Services