TWOFOUR54 ABU DHABI
Join The Award-Winning Community
Twofour54 is a media free zone located at the heart of one of the fastest growing media markets in the world with attractive economic benefits for companies such as an easy licensing and business set-up services, 100% company ownership in a stable environment. A place where some of the biggest names in the industry call home and the perfect location for your business, big or small, to thrive and prosper.
Twofour54 provides office space, production facilities, talent development initiatives and training, and business support services for media companies.
Core Sectors: Themed free zone with focus on services related to IT and media.
Central location
State of the art facilities
100% company ownership
0% import tariffs
100% exemption from personal income tax
0% Corporate Tax provided they comply with all regulatory requirements
No bureaucracy and transparent licensing with Media Zone Authority – Abu Dhabi and quick and easy set-up with twofour54 government & travel services which offers government relations and visa processing for your business and staff
Highly cost effective office space solutions for your business needs and size
No security deposit per employee visa required
No minimum share capital requirements for the entity to be registered in twofour54
Hassle free company registration, laws and legal framework
Commercial
Professional
Freelance
Serviced offices
Fitted offices or shell and core options
SPEAK TO OUR EXPERTS TODAY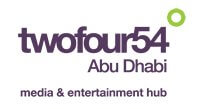 Twofour54 Abu Dhabi
Sheikh Zayed Street, Opposite Khalifa Park
100% company ownership
Not required
6-8 weeks
0% Corporate Tax provided they comply with all regulatory requirements
Required for trade license renewal
WHY CHOOSE TWOFOUR54
Unparalleled Access To World-Class Business Services