KHALIFA INDUSTRIAL ZONE ABU DHABI (KIZAD)
Join The Award-Winning Community
KIZAD delivers unique advantages – extensive size, world-class infrastructure, free zone, and non-free zone solutions, dedicated investor support, tax-free environment with competitive operating costs, and strategic location with access to regional and international markets. These contribute to making KIZAD one of the world's foremost port-integrated industrial zones and a leading hub for the manufacturing, logistics, and trade across diverse sectors.
Located near Khalifa Port – one of the world's most advanced deep sea ports with world-class infrastructure – KIZAD enables multimodal connectivity via sea, air, road, and rail networks.
Core Sectors: Generalist free zone with trade & logistics, and manufacturing at the core, KIZAD creates value through integrated service offerings that span aluminum, steel, metal products, paper & packaging, food processing, pharmaceutical & healthcare equipment, polymer converting, and automotive spare parts.
Direct connection to Khalifa port
0% Corporate Tax provided they comply with all regulatory requirements
Competitive operation costs
Outstanding access to markets
World-class infrastructure
Free zone and non-free zone solutions
No withholding of taxes or VAT
Dedicated investor support
Central location
Industrial
Trading
General Trading
Service
Land leasing
Pre-built warehouses
Free zone offices
Light industrial units
Business park and district centre
Retail spaces
Serviced offices
Offices fitted and shell and core options
SPEAK TO OUR EXPERTS TODAY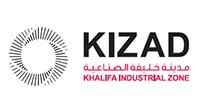 Khalifa Industrial Zone Abu Dhabi (KIZAD)
Located near Khalifa Port, Abu Dhabi.
Direct connection to Khalifa port, 0% tax-free environment
Not required at inception, however, from AED 150,000 (depending on the activity) recommended within the first year of operation.
6-8 weeks
0% Corporate Tax provided they comply with all regulatory requirements.
Required annually
WHY CHOOSE KIZAD
Unparalleled Access To World-Class Business Services