Signed, sealed delivered and more! Agreements have been signed to boost Chinese business growth within the UAE. Expect an influx of foreign direct investment and Chinese businesses looking to setup or expand to Dubai, UAE.
Dubai Multi Commodities Centre (DMCC) is one of the United Arab Emirates largest commodity trade free trade zones. DMCC free zone has taken an enthusiastic step by signing a Memorandum of Understanding (MoU) with the Royal Fund Investments LLC (RFI). The aim with this agreement is to strengthen the trade relations between DMCC free zone and the business community in China. Furthermore this will give confidence to those that are intending to expand or start a business in Dubai. Mr. Ahmad Sultan Bin Sulayem, Executive Chairman – DMCC announced they have met with Government bodies and businesses in Beijing for discussions and are establishing a platform for those that are looking to setup a Dubai company or expand their business to the UAE.
Both parties of the MoU have agreed on working towards strengthening and developing ties. One example is to simplify the information needed for Chinese businesses to register their company in the DMCC free zone. DMCC plan to educate and inform the Chinese business community about the various products and services that would be appealing such as: Dubai Gold and Exchange commodities (DGCX). The CEO of RFI noted "There is a strong relation between RFI and DMCC when it comes to our commitment to boosting business activities. DMCC is a strong partner and we look forward to bringing the activities outlined in our MoU to life together." This can only result in more Chinese firms looking to expand to Dubai.
DMCC is the largest free zone in the region and hosts more than 15,000 companies including some renowned Chinese firms such as: ChemChina, China Petroleum and Chemical Corporation etc. DMCC is becoming largely popular among the Chinese community. Gulf News publication reported business registration from Chinese business have shown a growth rate of 46% in preceding five years. DMCC has always been a supporter of Chinese businesses and was the first ever foreign exchange to list Shanghai Gold Futures in DGCX.
UAE & CHINA AGREEMENTS
Below we have highlighted additional agreements that have supported and promoted the participation of Chinese business and will encourage business setup in DMCC, Dubai and the UAE.
DMCC Coffee Centre
Located nearby Jebel Ali Port is the development of a new 7,500 sq. meter coffee plant – DMCC Coffee Centre.  DMCC Coffee Center will have a temperature controlled facility offering world class infrastructure and services for storage, processing, warehousing and delivery of coffee of precise specifications.
The coffee center is projected to handle up to 20,000 tons of green coffee annually, with an estimated trade value of USD 100 million. DMCC authority has signed an agreement with Yunnan State Farms (producer of almost 90% coffee of the Chinese market) and its trading partner Mega Capital Halal Group to enable the processing and trade of Green coffee in the Emirate of Dubai. This motivated arrangement will play a crucial role in bringing China's coffee to the world.
DGCX
Dubai Gold and Commodities Exchange (DGCX) have announced the first Yuan denominated gold future products to be offered outside of China. Obtaining a license from the Shanghai Gold Exchange (SGE) to list Shanghai Gold Futures in Dubai using the Shanghai Gold Benchmark Price. The regulating body further announced that Agricultural Bank of China (ABC) has become the first market maker for the Shanghai Gold Futures contract to be listed on its exchange.
MoU Between DMCC and China Silver Group
This MoU was signed to explore the alliances between the China Silver Group and DMCC Authority. The aim is to establish a centralized registry for commodity ownership and financing platforms within the free trade zones in China and encouraging the initiatives for bilateral trade between both countries.
Recently, Gulf News has reported Chinese citizens contribute an estimated 200,000 to the population of the UAE. Currently there are more than 4,000 Chinese companies that are successfully doing business in the UAE in the sectors of telecommunications, food and beverages, construction, advisory and trading. Some of the well-known companies in the list include Huwaei, Air China, Xiomi and Cosco.
ADDITIONAL AGREEMENTS BETWEEN UAE AND CHINESE GOVERNMENT
Chinese Preseident – Xi Jinping recently visited the UAE and signed various agreements and MoU with the UAE Government for promoting bilateral trade between both countries.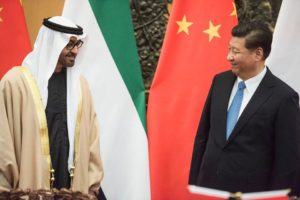 The main agreements include:
An MoU to advance energy cooperation among the nations
Two MoUs to enhance E-commerce between the both countries and better cooperation at the China International Import Expo
Two MoUs involving the UAE and China on the construction of embassies and other buildings
MoU to advance energy cooperation between the UAE Ministry of Energy and Industry, and China's National Energy Commission
An agreement to enhance the cooperation between agriculture sectors of both the countries
A collaboration is planned between Abu Dhabi National Oil Company and China National Petroleum Company
Two MoUs were signed for cooperation amongst the UAE and China on Silk Road Initiative and Maritime Silk Road Initiative
UAE and China agreement on mutual cooperation and administrative assistance in the customs issues
A structure treaty is planned for cooperation between the Abu Dhabi Global Market and the Chinese-UAE Pilot Zone
A partnership and investment agreement in the World's largest Solar Energy Project
TAKEAWAY
Dubai's international lifestyle, mix of cultures, prosperous business opportunities, access to GCC and European markets are just some of the main attractions for Chinese entrepreneurs and companies looking to set up a business in the Dubai.
The UAE Ministry of Economy report has revealed the value of trade exchanged between the UAE and China has been growing steadily over the years. Non-oil foreign trade exchange between the UAE and China amounted to AED 195.8 billion in 2017. There has been a rise in re-exports at 37.4 per cent, valued at AED 12.8 billion and growth in imports at 14.7 per cent, valued at AED 177.4 billion.
The UAE's foreign trade with China in 2017 varied between direct trade, valued at AED 94 billion which is 48 per cent of the country's total foreign trade valued at AED 101.5 billion or 52 per cent. Therefore, it is essential that the UAE and China plans, strategic agreements and efforts are put in place to strengthen and be carried out.
Chinese businesses have always been an important part of the UAE economy. The increasing number of agreements between the governments of each country signals unstoppable growth of Chinese businesses not only in the country but globally. The mentioned reports and MoUs already display a commendable growth of Chinese business entering the UAE. With the abovementioned initiatives, we predict a rise in the number of investments from China to UAE markets and as a result there will be an increase number of new Chinese firms looking to expand and start a company in Dubai.