– PRESS RELEASE –
Creation Business Consultants announces that its win at the UAE Business Awards 2021, presented by MEA Markets for – Best Company Setup Consultancy Firm 2021.
One of the region's leading business service providers, Creation helps entrepreneurs, small to medium enterprises, and multinational corporations to enter, expand and restructure in the UAE and wider GCC.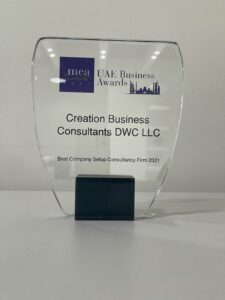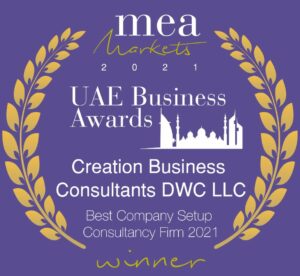 Scott Cairns, Managing Director of Creation Business Consultants, commented:
"It is a fantastic achievement to be awarded by business industry experts. It is great that we are among a select few registered Corporate Service Providers (CSP) in the UAE that are qualified to register and structure companies in the UAE and GCC.

Company setups can be challenging and costly at the best of times. I am, however, incredibly proud of our entire team especially during the height of the Covid-19 lockdown and restrictions. Throughout this time, we continued guiding our clients, from start-up companies to multi-nationals towards providing solutions for remote company setups and bank account openings at the most challenging times. Our mission remains to ensure greater success and market leadership through expert advice and support while maintaining our uncompromising corporate values.

We continue to look forward to assisting more businesses expanding to the Middle East region. There's a positive outlook for the year ahead and it's been a great start to the year for the company."
The annual UAE Business Awards programme honours the enterprises and individuals behind innovations and inspirations that drive increasing growth and development. These developments have helped to establish the Middle East as a global knowledge-base and leading destination for new initiatives.
– ENDS –
About Creation Business Consultants
Creation Business Consultants is one of UAE's leading management consultancy firms, assisting multinational corporations, SMEs and entrepreneurs. It offers expert structuring and advisory services to safeguard their clients' corporate presence, and maximise their business activities through the United Arab Emirates and wider GCC region. Founder and managing director, Scott Cairns has over 20 years accounting and finance experience gathered across the GCC, working for companies such as Hyundai, Deloitte, and Siemens.