INTERNATIONAL FREE ZONE AUTHORITY (IFZA)
Join The Award-Winning Community
Based in the heart of Fujairah and built on global quality, IFZA is becoming a leading investment hub within the thriving UAE economy. Offering a highly customised approach, coupled with efficient international service standards and cost-effective solutions.
Core Sectors: IFZA focuses on consulting, services and trading licenses. There are over 100 business activities ranging from professional services, information technology and design, logistics, trading, food and beverage, education, lifestyle and marketing.
Cost effective company formation solutions
Fast business setup process
Wide range of consultancy, service and trading business activity options
100% foreign ownership
Shareholders are not required to be physically present in the UAE during the incorporation process
Company structures available for a Limited Liability Company or branch setup
100% exemption from corporate and income taxes
Zero foreign currency restrictions
Full repatriation of company profits and capital
Low set-up costs
No physical office requirements
No paid-up share capital requirements
Ability to incorporate holding companies
Several license options are available, to effectively serve small, mid-size and large international businesses.
Consultancy LicenseBusiness professionals providing expert and professional consultancy services across all industries.
Service LicenseA service license includes rendering services as the primary objective and utilizing associated goods to provide those services.
Trading LicenseAuthorizes the import, export, distribution and storing of items specified on the company trade license.
General Trading LicenseThis enables the licensee to trade in a wider range of products and gives the freedom and flexibility to trade in any commodity which is permitted within the UAE.
Holding LicenseIt allows the holding standalone assets and/or shares in other companies.
Offices – choose from a wide range of modern office solutions, tailored specifically to your requirements.
Shared office space
Private and executive offices
European design
Modern, open interiors with ample natural light
Flexible usage options
Flexible rental duration
24/7 access
SPEAK TO OUR EXPERTS TODAY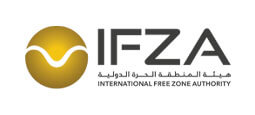 IFZA
Located in the north Emirates and based in the heart of Fujairah.
Business owners are not required to be physically present during the incorporation process and all documentation can be signed and accepted digitally.
Zero share capital required.
Averaging 2-3 working days
Tax and duty exemption
Not required however, recommended as best practice to maintain proper books of accounts
WHY CHOOSE IFZA
Unparalleled Access To World-Class Business Services
Wide Range of Activities
IFZA offers a wide range of business activities including Consultancy,
Service, Trading and Industrial options.
LLC Licenses
New business setups (except branches) are registered as a Limited Liability Company (LLC) structure. An
LLC company or branch is able to sponsor employees and have a corporate bank account.
Fast License Setup
IFZA business registration is streamlined and results in the fast issuance of a company trade license.
Dedicated Team
Specialized free zone team that work directly with Creation Business Consultants experts to get your company established in an efficient and
timely manner.